Help us to raise £40,000 to fund the
Long-COVID Homeopathic Research Project
HINT has launched an international campaign to raise £40,000 to fund a pilot Randomised Control Trial (RCT) research project to evidence the outcome of the homeopathic treatment of the symptoms associated with Long-COVID patients.
LATEST UPDATE ON LONG COVID RESEARCH PROJECT
Ethical approval granted by St Mary's University, Twickenham
Lead researcher, Dr Philippa Fibert, confirmed that the research protocol has received approval from St Mary's Board of Ethics. This is excellent news and is essentially the Green Light for the project. It's also excellent timing since the BBC's recent report highlighted the fact that there are some two million people in the UK suffering the effects of Long Covid and after three years and many £millions of NHS money, an effective treatment is yet to surface.
A Homeopathic Clinic dedicated to the research project is currently being created and homeopaths and patients recruited. More updates coming soon.
Interview about the research with Dr Tess Lawrie
Dr Philippa Fibert was recently invited to discuss the long Covid Randomised Control Trial (RCT) research project – to evidence the outcome of the homeopathic treatment of the symptoms associated with Long-COVID patients – with Dr Tess Lawrie.
Prior to the interview being aired on March 5, Dr Lawrie wrote a fascinating piece on her Substack page. To read it please follow this link https://drtesslawrie.substack.com/p/theres-a-reason-why-the-queen-had
To whet your appetite this is Dr Lawrie underlining the reason HINT is so committed to making sure this research is done:
'This is a clear instance where Covid, despite its challenges, has also opened up an opportunity: the chance to clear homeopathy's name. Philippa and her team are building the evidence base that will help restore homeopathy as an accepted and respected treatment.'
She continues:
'Those suffering from long Covid have been turning to homeopathy – and so Philippa has led a service evaluation project to document the outcomes. The results have shown that people are experiencing improvements with homeopathic treatment so now, Philippa is spearheading a well-designed randomised controlled trial to evidence the outcome of the homeopathic treatment of the symptoms associated with long Covid.'
The Service evaluation submitted for publication
According to the authors of the Service evaluation of homeopathic treatment of long COVID: the long COVID POD project, a more robust study will 'systematically explore: patients' experiences of treatment; the comparative effectiveness of adjunctive homeopathic treatment compared to usual care; and optimum treatment protocols such as the effectiveness of the COVID nosode.' (Pinkus, Relton, Majumdar, & Fibert, 2022)
The service evaluation has been submitted to the European Journal of Integrative Medicine for publication.
Please access the full interview by following this link: https://open.substack.com/pub/drtesslawrie/p/theres-a-reason-why-the-queen-had?utm_campaign=post&utm_medium=web
Be part of this development
We hope you are inspired by the latest developments in this ground breaking project, that holds so much promise for homeopathy and the suffering public. Be part of this unique opportunity to put homeopathy on the map and help us raise the last part of the funding we need to make this a reality. Please share this good news with your colleagues, students, patients and friends.
To donate to this project, please go to https://hint.org.uk/covid-research/
Thank you!
---
Why this research is so important?
---
The clear improvements our Long-COVID patients have experienced after homeopathic treatment have so far been anecdotal. But homeopath and post-doctoral researcher, Dr. Philippa Fibert, working with St Mary's University and Homeopathy International (HINT) is about to put an end to that.
The emergence around the globe of Long-COVID or post-COVID 19 Syndrome, offers homeopathy the opportunity of a lifetime to showcase its potential.
In our various clinics we are all working with patients who are presenting in their droves with a wide range of symptoms, often lasting weeks or months, long after their initial COVID infection has left them.
Whatever the label given to these symptoms, the UK National Health Service (NHS) freely acknowledges that the syndrome is poorly understood and therefore can be 'difficult to diagnose and treat'. The nhs.uk website further claims: 'when patients go to their GP they often find themselves being bounced back and forth with different referrals and no clear answers'.
Dr. Fibert told HINT: "This trial provides an excellent opportunity to develop much-needed evidence for the effectiveness of homeopathy at a time when other healthcare providers are struggling to develop effective protocols for the treatment of Long-COVID.
"In a prelude to the pilot RCT, we have already been collecting the MYMOPs (Measure Your Own Medical Outcome Profile) of Long-COVID patients and found a 36% improvement after just one consultation. After their second consultation the improvement climbed to 48%."
We hope this project will put homeopathy front and centre as the medicine of choice for the symptoms associated with Long-COVID. You can be part of this ground breaking project by helping us raise the funding needed.
We have the enthusiasm, now all we need is £40,000 and with your help we know we can do it!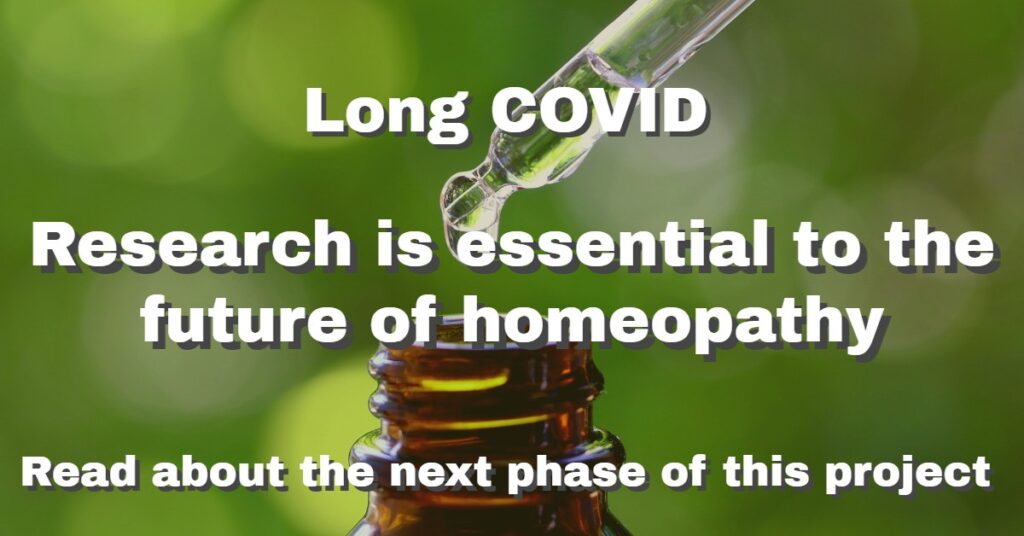 ---
Primary supporter on this project:

SHRET is a registered charity, established in 1948 to support research, education and practice in homeopathy and allied fields, not only in Scotland but around the world
---
This project is also kindly supported by:
---
Kind words from some of our project supporters: